New Delhi: In Uttar Pradesh today the celebration of Ramadan was in full swing. Opposition leader Akhilesh Singh Yadav and Deputy Chief Minister Prajesh Badak greeted the Muslims for the first time.
Muslims have been paralyzed by festivals over the past two years due to the spread of corona. Ramadan is being celebrated in Uttar Pradesh, which has a large Muslim population, due to the spread of corona which came under control this year. As part of this, special morning prayers were held at mosques and Eid grounds. As was the case before in the same places, the crowds were so large that no one stood outside the streets and streets praying.
This level of prayer has been a problem for the past one year in Gurugram, Haryana, near Delhi. The Hindutva party has strongly opposed Muslims worshiping in the streets as there is no space in mosques. As the situation spread in Uttar Pradesh, Chief Minister Yogi Adityanath was the first to warn. To acknowledge this, Muslims in Uttar Pradesh were quietly praying as they were on their borders.
Meanwhile, for the first time in Uttar Pradesh, political leaders went in search of Muslims and greeted them this year. The first person to do so was Samajwadi Party leader Akhilesh Singh Yadav. He went in person to the Ithaca in Lucknow and waited until the prayer was over. Later, he met Maulana Khalid Rashid of Prangi Mehl Madrasa who was praying there. Akhilesh Ramzan congratulated him on building many Muslims along with him. This comes at a time when his Samajwadi Party is facing opposition from Muslims after its election defeat.
Following this, Prajesh Badak, who is the first Deputy Chief Minister of Uttar Pradesh, visited the Itka in Lucknow and greeted the Muslims. Many prominent Muslim leaders of the Ubi, including Maulana Fazlur Rahman and Dr. Kalpe Noori, were present at the Eid. From here Akhilesh also went to nearby Sajad Bagh and greeted the Muslims.
Two years later, Ramadan prayers were held at the Taj Mahal in Agra. It was held in the Shai Mosque built by the Mughal King Shah Jahan. Of these, about two hours were granted free of charge to Muslims only on behalf of the Archaeological Survey of India. Tourists, including foreigners who witnessed the Taj Mahal, enjoyed taking pictures on their mobile phones.
Prayers were also held peacefully at mosques and ethos in Aligarh, Bulandshahr, Varanasi, Prayagraj, Meerut, Saharanpur and Bareilly, which are considered religiously troubled cities.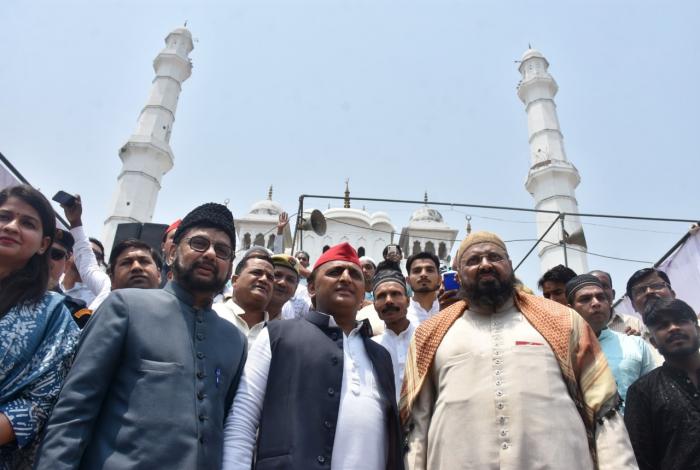 In particular, there is a claim that there is a Hindu-Muslim relationship similar to the Ganga-Jamuna river link in Varanasi. As a reminder of this, I was able to see the views of Etka near the Kasi Vidya Peetha in Varanasi.
The Hindus of the area served the Muslims who had finished their prayers here with a hot summer sarbat. Similar scenes were reported last March when Muslims fell in love with the Hindus by giving them a sherbet drink.
In Uttar Pradesh, Muslims are said to have performed prayers in a total of 31,151 places. Of these, 7436 were Eid and 19,949 were mosques. Of these, 2846 mosques and Eidgas were heavily guarded by the Uttar Pradesh police. In this, the Central Security Forces were also involved.
Similarly, on Hindu and Muslim festivals, the people of Uttar Pradesh meet many of them in person and share the joy. The event was also able to be seen among Muslims today after two years with sweets including Samiya.
.