The Commander of the US Central Command, Lieutenant General Michael Corella, affirmed that his country's relationship with Saudi Arabia is strategic and strong, noting that it extends for 77 years and is comprehensive.
He added in an interview with "Al Arabiya.net" that "his country's relationship in the region goes beyond the military component," pointing out that the United States and Saudi Arabia have a history of technical and educational exchange that has benefited both countries, stressing that the long-term security relationship is very important.
Committed to our partners
He also made it clear that he will visit the Kingdom many times in the coming months and years, stressing the American commitment to the Kingdom and the region.
In addition, Corella said that his country's commitment to its partners in the region is unwavering, and extends to joint operations to combat terrorism.
He added that this partnership includes elements such as foreign military sales, intelligence cooperation, and joint exercises in the sea, land and air fields, which are very important to us and the region.
When asked about Middle East security, he made it clear that the US Central Command has an unwavering commitment to Middle East security.
Iran is the most destabilizing country in the region
As for Iranian threats, he stressed that Iran is the most destabilizing force in the Middle East, pointing out that the United States will not allow a nuclear Iran, pointing out at the same time that concerns about Iran go beyond its nuclear capability.
He added that Washington is concerned about Iran's ballistic missile program, as well as support for its proxy and allied militias in the region.
He also indicated that the Iranian threat requires a firm effort from Washington and its partners in the region.
From Corella's visit to Saudi Arabia (SPA)
On maritime security in the Middle East, Corella said that this issue is very important to the United States, noting that waterways such as the Suez Canal, Bab al-Mandab and the Strait of Hormuz are major transit routes for energy and trade.
Preserve the waterways
He stressed that maintaining safe waterways is a critical responsibility of his country and its partners.
He also expressed Washington's concern about smuggling advanced conventional munitions by sea to support Houthi operations.
In this context, he stressed that anti-smuggling operations with the Royal Saudi Naval Forces will be a focus area for them.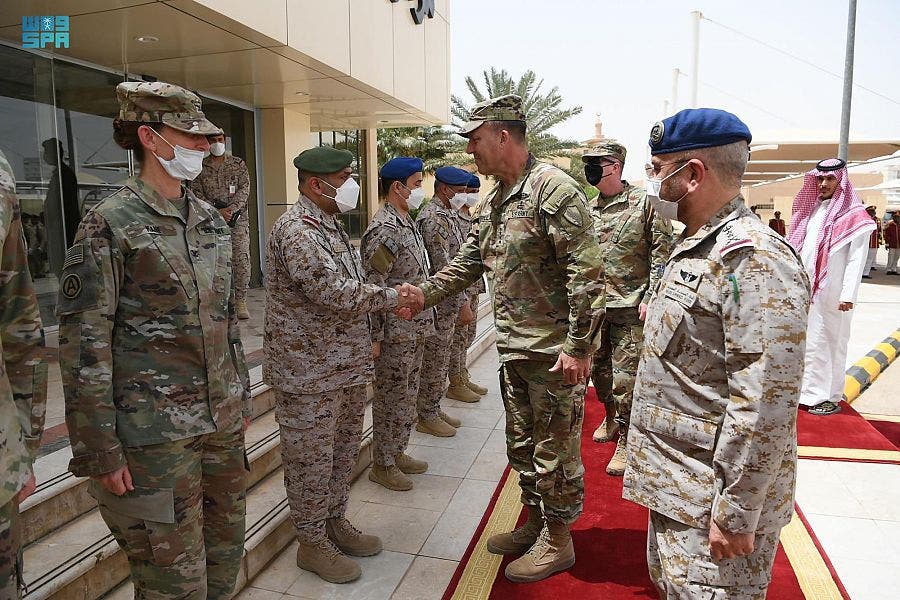 From Corella's visit to Saudi Arabia (SPA)
He said that innovation is also a priority area for him, pointing out that he is looking into employing innovative methods and new technology in maritime security.
It is noteworthy that Lieutenant-General Michael Corella is currently visiting Saudi Arabia, where he met the Saudi Chief of General Staff, Lieutenant-General Fayyad bin Hamed Al-Ruwaili, at the Diriyah Joint Operations Center headed by the General Staff.
During the meeting, they discussed a number of issues of common interest, and ways to support military cooperation relations, stressing the extended partnership and cooperation between the armed forces of both countries, and praising the pivotal role played by the Kingdom and the United States in achieving security and stability in the region.
It is noteworthy that Corella assumed his position as head of the US Central Command, succeeding General Kenneth McKenzie, who retired from his position last April after 42 years of military service in the US Army.