A sudden political change took place in Meghalaya at midnight yesterday, with the Congress party's opposition leader and former prime minister Mukul Sangma Including 12 Congress MLAs Mamta Banerjee Joined the Trinamool Congress.
In Meghalaya, the Congress has 17 MLAs, 12 of whom have joined the Trinamool Congress.
Shamsplang, MLA of Mawsram constituency in East Kasi district, said, "Out of 17 MLAs in the Congress party, 12 are Trinamool Congress We have decided to join the party.
Former Chief Minister Mukul Sangma The 11 MLAs led by him will formally join the Trinamool Congress tomorrow. We have conveyed our decision in this regard to the Speaker of the House, Medab Lingdo. "
With the Assembly elections in Meghalaya set to take place in 2023, the joining of 12 of the 17 MLAs from the Congress party to the Trinamool Congress is a major setback for the Congress party. The move does not come under the Party Tabling Act either, and Congress is in no position to take action under the Party Tabling Act when two-thirds of MLAs go to another party.
With the Congress leadership Trinamool Congress Party leader Mamta Banerjee The Congress party continued despite good friendships Trinamool Congress The question has also arisen as to whether dragging the party will create a rift between the two parties.
Not only that Trinamool Congress For Mamata Banerjee's attempt to establish the party in various states Congress MLAs Joining would be a great incentive
Meghalaya is the next change after Keerthi Azad of the Bihar Congress, former United Janata Dal (UJD) general secretary Pawan Verma and Haryana political leader Ashok Tanwar joined the Trinamool Congress two days ago.
In the local elections to be held in Tripura Trinamool Congress The biggest competition is planning to capture multiple seats. Similarly, to wage a major political war against the BJP in next year's assembly elections in Goa Trinamool Congress It is noteworthy that Chairman Mamata is planning and acting.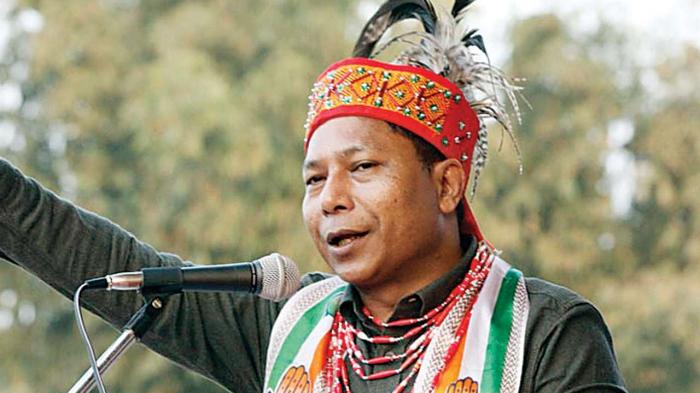 Meghalaya is the Leader of the Opposition Mukul Sangma , Has been dissatisfied with the Congress leadership. Vincenzo H, in particular, has taken this decision expressing dissatisfaction with the way the Congress leadership acted without consulting him when appointing him.
Mamata Banerjee, who is on a three-day visit to Delhi, is expected to meet Congress leader Sonia Gandhi. But, Mamta Banerjee In an interview the day before yesterday, he said, "I do not have to meet Sonia Gandhi every time I go to Delhi."
In Meghalaya12 Congress MLAs Since Trinamool has joined the Congress, it has become the main opposition party in the state Trinamool Congress உருவெடுக்கும். The Congress party will lose opposition status.
.