Published: 14 Jan 2022 06:26 am
Updated: 14 Jan 2022 06:27 am
Published: 14 Jan 2022 06:26 AM
Last Updated: 14 Jan 2022 06:27 AM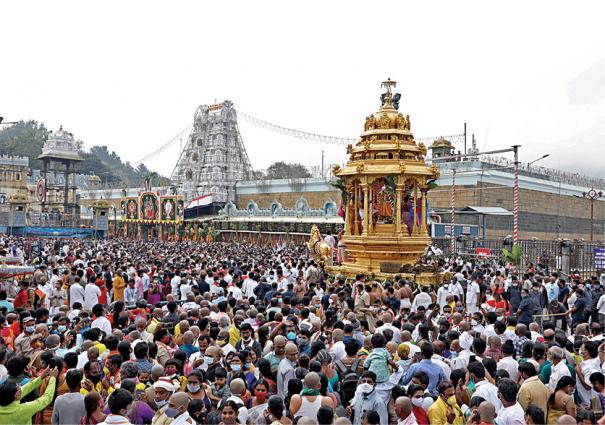 திருமலை
Mr. Malaiye festival was held at Tirupati Ezhumalayan temple yesterday to mark Vaikunda Ekadasi. Special pujas were performed for the early morning source. The dignitaries were then allowed in for Swami Darshan from 2 p.m.
Among them are Chief Justice Ramana, Supreme Court Justice Uday Umesh Lalith, Chief Justice of Andhra Pradesh High Court Prashant Kumar Misra, Chief Justice of Karnataka High Court Ritu Raj Awasthi, Chief Justice of Telangana High Court Satish Chandra Sharma and Deputy Chief Minister of Andhra Pradesh Narayanasamy. Many, including, visited the Seven Mountains and then made their way through the gates of heaven.
Ordinary devotees were allowed to see Swami from 9 a.m. onwards. In this, more devotees than usual saw Swami. There is a gateway to heaven for 10 days until the 22nd. On the eve of Vaikunda Ekadasi yesterday morning, Sridevi and Bhudevi happily walked the 4 storied streets in a golden chariot and blessed the devotees.
.