Last Updated : 29 Aug, 2022 02:59 PM
Published : 29 Aug 2022 02:59 PM
Last Updated : 29 Aug 2022 02:59 PM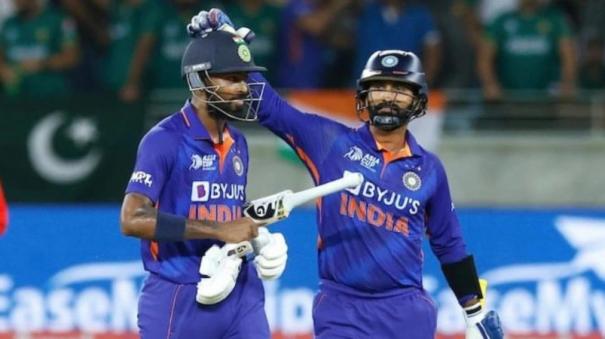 Indian cricketer Hardik Pandya has shared pictures of his on-field setback and subsequent comeback on the same field. His incredible performance against Pakistan ensured victory for India.
Hardik Pandya's performance is to show that he is ready to give an all-round performance in terms of batting and bowling. Due to injury, he was unable to bowl properly for the past few years. Many criticized him for playing in the team without full fitness. He made a comeback to the field after almost several months of rest.
Recently, the Gujarat Titans team he led won the IPL 2022 title. Hardik delivered what the team needed as an all-rounder in that series. Now he has changed it in international cricket as well. He bowled 4 overs and took 3 wickets against Pakistan in the Asia Cup. He also scored 33 runs in 17 balls.
Now everyone who criticized him is praising him as 'Hardik…Hardik…'. That's the extent of his game. His body language on the field revealed that he is also mentally ready to play this crazy game. He won the game by remaining calm in a difficult situation.
Now he expressed that sentiment through his tweet. He captioned it as "The comeback is greater than the setback". He shared a picture of him being carried off the field on a stretcher due to an injury during the 2018 Asia Cup, and a picture of him winning the match against Pakistan yesterday.
Don't miss out!