Highlights:
A truck hangs from the bridge into the valley.
The incident took place in southern Idaho, USA.
Accident videos and photos go viral on social media.
AA truck collided with a bridge in southern Idaho, USA, and plunged into a 100-foot-deep valley. Luckily the truck hit the bridge railing and hung. Upon receiving this information, police rushed to the scene with Hutahutina emergency personnel. The dangerous hanging truck was pulled up safely. Two elderly people who were traveling in it were rescued.
The 67 – year – old man was traveling with his 64 – year – old wife in a camper truck (linked to a container home) on the Malad Gorge Bridge when the truck overturned. This caused the truck to hang over the entire bridge into the valley. However, the camper linked to the truck turned on the road. The link between the truck and the camper .. The big accident was avoided by rolling over to the railing.
All you have to do is pay Rs 80 lakh. The whole island is yoursAfter receiving this information, the police rescued them with the help of Special Operations Rescue Team (SORT). He was rushed to Magic Valley Hospital. You can see in the video above how the elderly couple was rescued from the truck hanging on the bridge. See the following Facebook post for photos.

Below is the press release from our friends and partners at the Idaho State Police. This afternoon our SORT – Special …

Posted by Magic Valley Paramedics on Monday, 15 March 2021
Read Also: All the 3 days of mourning in that country are hell for the new couple, so bad!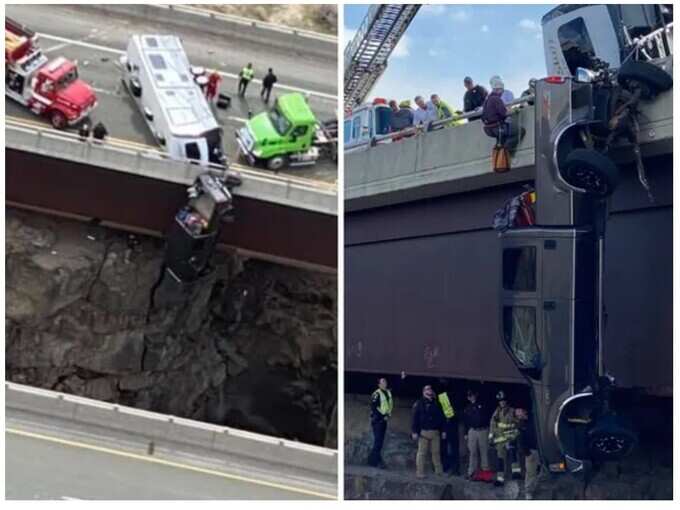 Image Credit: Magic Valley Paramedics / Facebook
.