Highlights:
Prabhas released the trailer of 'Jatiratnalu'
Newly planned Naveen Polisetti
The team that left the video called 'Jogipeta to Mumbai'
Audiences have never seen such a trailer launch in the Telugu film industry. The 'Jatiratnas' team has such a new plan. It also specializes in trailer launches. The energy and comedy timing of the hero Naveen Polisetti in particular is awesome. Not only in the movie .. They also had a good laugh in the video taken with their journey to Mumbai for the trailer launch. Prabhas, who is currently staying in Mumbai, went to launch the 'Jatiratnalu' trailer and made a video titled 'Jogipeta to Mumbai'.
'Jatiratnalu' trailer: Ultimate fun .. Brahmi who finally gave a twist!
Naveen Polisetti Sonthuru Jogipeta. That is why this video was created as 'Jogipeta to Mumbai' in a funny way. Hero heroines Naveen Polisetti, Faria Abdullah, comedian Priyadarshi and director Anudeep went to Prabhas' residence in Mumbai and released the trailer on his hands. The film crew showed in an entertaining video that we met Tamela Prabhas. Even Prabhas could not help but laugh at Naveen Polisetti's comedy in this video.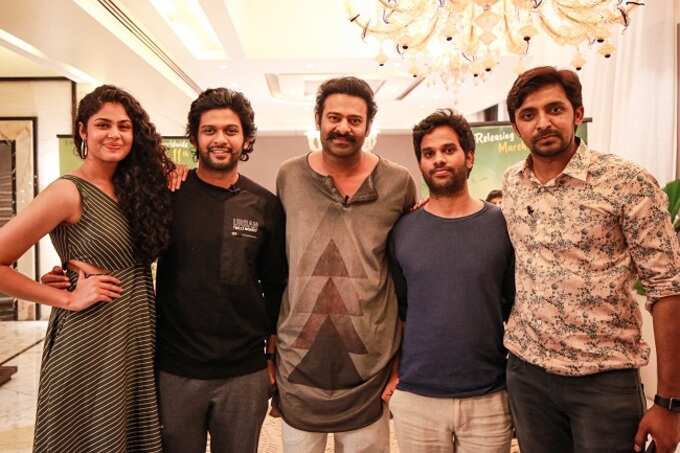 Prabhas unveiled the 'Jatiratnalu' trailer while sitting on a bed in his house. Naveen introduced heroine Faria Abdullah to Prabhas .. Prabhas was also stopped to see her height. Prabhas saw her standing .. " This is so long. What are the shoes and heels not wearing? " He asked in surprise. Faria revealed that she was not wearing heels. With this there was laughter and flowers.

Uppena: Allu Arjun has finally seen the movie 'Uppena' .. hence the delay
Prabhas said that the trailer was awesome. When I saw the teaser in the past it seemed okay .. but, the trailer said the pill was very good. If you laugh at the trailer ten times, you can imagine how long the movie will last. Prabhas revealed that he thinks this is a movie where the whole family will go after Kovid and enjoy a good laugh. Prabhas congratulated director Anudeep, actors, producer Nag Ashwin and the entire unit.
Jogipeta to Bombay: 'Jatiratnas' rush near Prabhas
.