Vikramasimha Bhupathi: Balayya Babu (Nandamuri Balakrishna) is busy with a series of films. After the blockbuster 'Akhanda', he is lining up movies with new directors with double enthusiasm. The film shoot of NBK 107 (working title) under the direction of Gopichand Malineni under the production of Mythri Movie Makers is going on abroad. News is coming that fans' slogan 'Jai Balayya' is going to be fixed as the title.

NBK 107 First Hunt Teaser released on the occasion of Balayya's birthday got a solid response. Balayya is playing dual roles as father and son in this movie which is being shot in the backdrop of Rayalaseema. The team is planning to complete the shooting of this film as soon as possible and release it by Christmas or next Sankranti.

Meanwhile.. Balayya started a Pan India range folk movie with a huge budget 20 years ago and stopped in the middle. It was given the powerful title 'Vikrama Simha Bhupathi'. Kodi Ramakrishna, who had many super hits with Balayya, started this movie after 'Narasimha Naidu' in the crazy combination of producer S. Gopal Reddy, who made consecutive blockbuster movies with Balayya. While Tripuraneni Maharathi is the writer, 'Maestro' Ilayaraja is the music director and Kabir Lal is the cinematographer. A part of the shooting was stopped due to various reasons.

The news is going viral saying that this is the story of that movie beyond 'Baahubali'. Let's see the details.. In this movie, Balayya played the characters of father and son named 'Vikrama Simha Bhupathi' and 'Pratapa Verma'. Pratapa Varma lives with his grandmother in a forest hut. Some bandit thieves come to rob the nest. They are shocked to see Pratapa Varma and prostrate themselves. What actually happened is revealed in a flashback.

'Vikrama Simha Bhupati' is the king of an empire.. His son is Prince Pratapa Varma. Only those who believe in Vikrama Simha Bhupati will stab him in the back and kill him. In those circumstances, Vikrama Simha Bhupati's mother takes her grandson and goes to the nest in the forest. How did Pratapa Varma, who came to know about his father, go back to that kingdom and punish those responsible for his father's death? How did he get the throne? This story is thought of with the events.

The shooting started in 2001. Along with Ramoji Film City, the shooting took place in Visakhapatnam, Araku and Golconda Fort. Half of the movie is complete including two songs. Vikrama Simha paired Roja with Bhupathi, Leesare (Takkaridonga fame) and Pooja Batra paired with Pratapa Varma. Later Anjala Jhaveri, sister of 'Samarasimha Reddy' came to Leesare place. Senior actress Bhanumathi Ramakrishna was cast as Balayya's grandmother. KR Vijaya was taken as she fell ill. A theory said to the producer Gopal Reddy that 'you will face a lot of problems because of this film'.

Later, Balayya shifted to the movie 'Seemasingham'. After that producer Gopal Reddy also fell ill. The film was put aside for a while. Kodi Ramakrishna did 'Anji' and Balayya other films. Gopal Reddy died sometime later. With this, 'Vikrama Simha Bhupati' stopped. In the generation after his father NTR, only Balayya can do mythological and folk roles. Fans are arguing that if this movie had been made as planned, it would have been a 'Baahubali' range movie.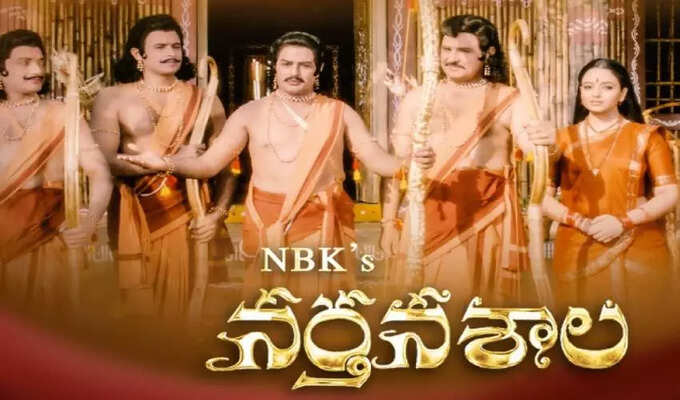 Also Balayya's self-directed 'Nartanashala' came to a halt with Soundarya's death. A 17-minute video of the recent shooting was released in OTT. There were reports that the films 'Brahmarshi Vishwamitra' (Hindi version) and 'Vikramasimha Bhupathi' directed by NTR will also be released in OTT but Balayya did not give any clarity on them.