The world influencers It has gone from being Disney to a live 'Save me' program. Before, nobody criticized, nobody strayed from the established discourse, but since the Ídolo Awards Everything has changed, and coincidence or not, Rocío Osorno is involved in all the controversies. And now Violeta Mangriñán who has felt directly attacked by the critics of the influencers Sevillana to her colleagues at the April Fair has wanted to answer it, and her friend Natalia Osona has also supported her. Friends, habemus fat mess in the panorama influencers. Still don't know what happened? Well, we'll tell you! Rocio Osornoin addition to the controversies with her flamenco dresses, she has also had time to criticize their classmates influencers who attend the April Fair for the photo or who dress in flamenco without stepping foot in El Real. And that is where Violeta Mangriñán has felt alluded to, since the Valencian went days before the Fair began to take some photos with her suit, but finally she could not go the first day for work reasons and for prioritizing being with her daughter , as she herself has explained on her Instagram account. The smartest has been María Pombo who has stayed in her house and has asked the Madrileñas to dress up as a chulapa for San Isidro.
Rocío Osorno has attended the April Fair with some of her best flamenco dresses, with which she has also had a lot of trouble with the designers, but she has also had the time to complain about what some of her colleagues are doing at the fair. The businesswoman raised a stories in which he put the following words: "The Fair is not engagement, the fair is illusion. I had to say it". Some very direct words that suggest that many of her colleagues go to the April Fair to generate content on their social networks and not because they really enjoy the big week in Seville. A full-blown criticism and a dart to her companions. That's why, Violet Mangriñán who has felt alluded to has wanted to respond and her friend Natalia Osona to support her.
"Those who think of the life of the rest saying that since they like the engagementhe posturing and the likesThose who think are the ones who like it the most. So in summary, and that there is nothing more engagement what a controversy", As direct as she is, Violeta has answered Rocío Osorno who accuses her of creating controversies to gain reach and followers on Instagram.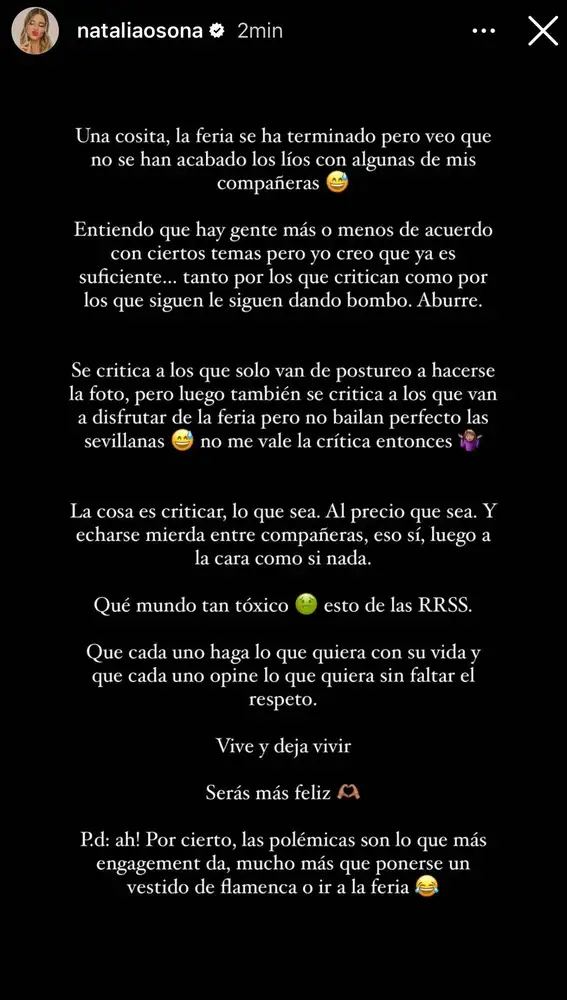 Definitely, the most controversial April Fair in the world influencers as it already happened in the Ídolo Awards. It seems that the rosy world of Instagram has become the tabloids. We will remain attentive to how these schoolyard discussions evolve.