Mumbai: Netizens have criticized Virat Kohli-Naveen-ul-Haq's feud by pointing to their Twitter posts as they are yet to end.
The Mumbai team won by 6 wickets in the important match between Bangalore and Mumbai at the Wankhede Stadium in Mumbai. A few days ago in the Bangalore-Lucknow match, the verbal exchange between Lucknow's youngster Naveen Ulhaq and Bangalore's veteran Virat Kohli, the aggression on the field erupted to the extent that Lucknow's advisor Gambhir and Kohli clashed after the match.
It was widely criticized in the cricketing world. After this clash, Hardik Pandya's Gujarat won the Gujarat-Lucknow match. Then Virat Kohli praised the Gujarat team players and posted on his Instagram page.
In response to this situation, when the match between Bangalore and Mumbai was held yesterday, Lucknow player Naveen Ul Ak posted a story on his Instagram page praising the Mumbai team players by mentioning them as sweet mangoes. This is not done once. When Suryakumar was in action against Bengaluru, he mentioned mangoes again in the story.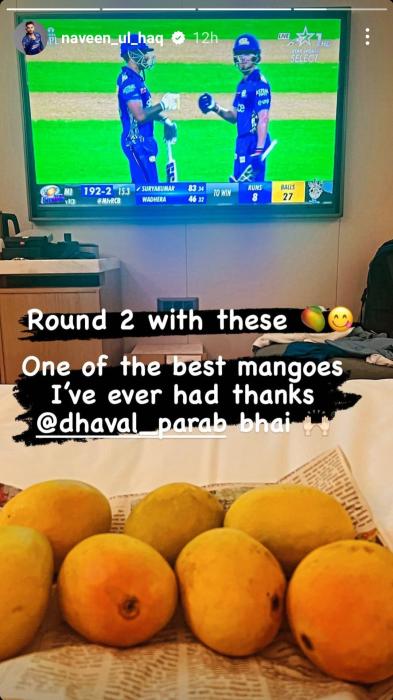 Following this, netizens posted on social media that Naveen was indirectly attacking Kohli. Following this, Naveen ul Ak also trended on Twitter along with Mumbai and Bangalore teams.