The sky of Saudi Arabia was colored on the first days of Eid Al-Fitr with fireworks, which constitute one of the activities of the General Entertainment Authority in its program for this year's Eid 2023, as the games covered with their glow and colors all regions of Saudi Arabia, to double the levels of joy, and prepare for the launch of the rest of the various activities that accompany the Kingdom's residents during the days of Eid Al-Fitr. .
The fireworks launch areas witnessed large gatherings of residents and visitors rejoicing on the occasion, as the games were launched in Riyadh through the Riyadh City Boulevard area, the city of Abha in Al-Safa Park, and the city of Jeddah on the Promenade Walk.
The fireworks displays will last for 3 days, in addition to the drone shows on the second and third days of Eid.
Fireworks on the first day of Eid
The games also started at the waterfront in Al-Khobar, and in Hail, on the Al-Maghwa recreational road for celebrations, and in the courtyard in Prince Hussam Park, and in Tabuk Central Park. And fireworks were taken in the city of Arar from a park as a headquarters to receive its audience, and in Najran in the Al-Nahda neighborhood, and in Medina in King Fahd Central Park, and in the city of Jazan in the northern Corniche promenade.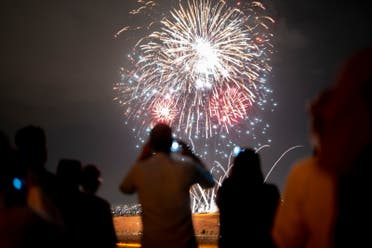 Fireworks in Qassim
Likewise, fireworks were launched in the city of Sakaka in Al-Azizia Park, and the people of Buraidah watched fireworks in King Abdullah National Park.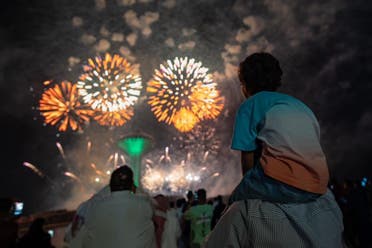 fireworks ..
The General Entertainment Authority called on everyone to visit its live platform on the link to view the details of the activities of the Eid Celebrations Program 2022.