Last Updated : 24 Nov, 2022 10:06 AM
Published : 24 Nov 2022 10:06 AM
Last Updated : 24 Nov 2022 10:06 AM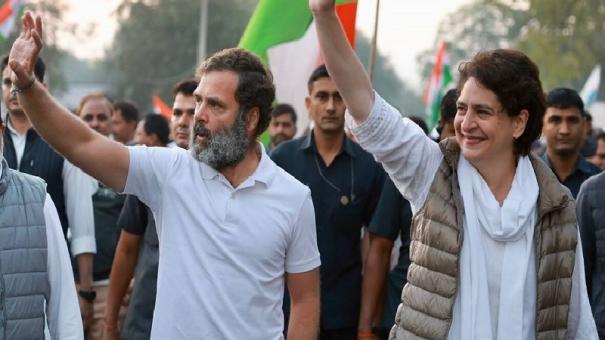 Indore: Rahul Gandhi along with his sister on India Unity Yatra Congress general secretary Priyanka Gandhi also joined.
Congress MP Rahul Gandhi has undertaken the Indian Unity Yatra since September 7. He started his pilgrimage in Tamil Nadu, completed his pilgrimage in Kerala, Andhra Pradesh, Karnataka, Telangana and Maharashtra and is currently on his pilgrimage in Madhya Pradesh. In this case, his sister Priyanka joined Rahul Gandhi in the yatra this morning. She was accompanied by her husband Robert Vatra and son Raihan. Today, as part of the pilgrimage, the freedom fighter and tribal leader Thandiabee memorial is visited. Then from there they go to Khargone. On Rahul and Priyanka's walk, the Congress party posted on its Twitter page that there is strength when we walk together.
The steps will be strong, and we will walk together.#BharatJodoYatra in @RahulGandhi Reached shoulder to shoulder with Ji @priyankagandhi G. pic.twitter.com/KrexLPRdfM
— Congress (@INCIndia) November 24, 2022
Rahul Gandhi has been commemorating tribal leaders with pride in the Congress' India Unity Yatra. Recently in Maharashtra he gave a special address in memory of Birsa Munda. It is also noteworthy that controversies arose due to his comments about Savarkar. While Rahul is remembering the tribal freedom fighters wherever he goes, it is noteworthy that the BJP is also glorifying the tribal leaders in the name of Jan Jatiya Gaurav Yatra. A rally was held yesterday in Madhya Pradesh from Thandiabee's birthplace under the leadership of Chief Minister Shivraj Chauhan.
Rahul Gandhi, who started the Yatra in MP earlier yesterday, accused the BJP of overthrowing Kamal Nath's rule in MP. Democratic institutions are also imprisoned under the BJP rule at the centre. Lok Sabha, electoral democracy, media are all controlled. All organizations are controlled by RSS/BJP. The judiciary is also under pressure. That's why he said that he would go on the road and carry out a pilgrimage to embrace the people, listen to the voices of the farmers, inquire into the problems of the workers and understand the hearts of the small businessmen.
Don't miss out!