'Srikaram' is a commercial film produced with a social message about modern agriculture and how to turn it into a source of income. Sharwanand played the hero. Priyanka Arul Mohan is the heroine. Kishore B is being introduced as the director through this film. The film was produced by Ram Achanta and Gopi Achanta under the banner of 14 Reels Plus. The film is set to release worldwide on March 11 on the occasion of Mahashivaratri. In this context, a pre-release event was organized at two places as part of the film's promotion.
I was ashamed to look at 'Chavu Kaburu Challaga': Allu Arjun
Megastar Chiranjeevi was the chief guest at the pre-release event held in Khammam on March 8. Telangana IT Minister KTR was the chief guest at the pre-release event on March 9 in Hyderabad. The show stars Harish Shankar, Parashuram, producer Anil Sunkara, hero Sharwanand, heroine Priyanka Arul Mohan, director Kishore B, producers Ram Achanta, Gopi Achanta, Narla Srinivas Reddy, writer Sai Madhav Burra, DOP Yuvraj and songwriter Bhardwaj.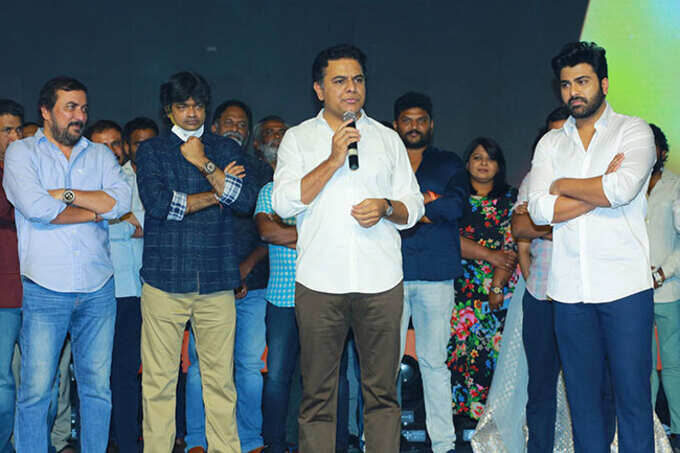 Speaking on the occasion, KTR said, "In most cases, we go to all kinds of events. But complacency comes only when some go. It seems so now. I saw the trailer of 'Srikaram' .. then I saw the 9 minute video. The film was produced with heart. Kishore looks so simple .. Sharwanand is just as simple. The ox cried Evusam .. The kingdom where the farmer cried will not recover! Is called. There is cost in agriculture itself, there is help. Now the cost has gone up .. aid has come down .. farmers are not in a position to farm.
Thanks to the producers for giving me the opportunity to make a short film as a feature film. It is not possible to give a message along with a good movie. Balancing everything .. Making a movie that everyone likes is like wielding a sword. However, it seems that the film was well shot. To put it mildly there is no need to watch the whole movie. As if to say whether the rice is cooked or not .. If you watch the trailer, you can say that the movie was well shot.

The hero is scared to look at Karthikeyan: Actress Aamani
I am a fan of Rao Ramesh. His father Rao Gopal Rao was very fond of Garante. Rao Ramesh, Sharwa's first film 'Destination' .. Again years later the film 'Srikaram' .. This is ridiculous. Sharwanand makes many types of films. Have been making different movies. We will always be happy if we make good efforts and good movies. As Harish says I will try my part to give entertainment tax exemption. Audiences should also embrace good movies. Watch the movie in the theater without piracy.
.