"At the bottom there is room" surprised his audience with the sudden absence of the character 'Tito', played by Laszlo Kovacs. The explanation came in chapter 192, when it was added to the plot that he had inherited a fortune and had to travel urgently. The uncertainty forced the actor to speak on Instagram: "I want to thank all the messages that have sent me concerned, wondering if 'Tito' is going to continue in the series or not. I want to invite you to continue watching 'AFHS'".
'Carmelo' is the bus for the Petito company, with whom Tito works at "AFHS". Photo: Laszlo Kovacs/Instagram
YOU CAN SEE: Who is Sergio Gjurinovic, the actor who will shake the love of León and Bella in "Luz de Luna"?
Where is Laszlo Kovacs?
Getting away from the intense rhythm of recording "There's Room at the Bottom" has allowed Laszlo Kovacs to dedicate himself to his honeymoon with Mili Asalde, his wife, whom he married in July 2022. At that time, the actor did not I could go on a trip and they postponed everything.
Now, through their respective Instagram accounts, Laszlo Kovacs and Mili Asalde share their tour of Europe. One of their first stops was Madrid (Spain), then followed by London and, in their latest publication, on April 13, the couple can be seen in the tourist centers of Budapest (Hungary), the country of origin of the actor's father, the engineer Andras Kovacs.
YOU CAN SEE: Laszlo Kovacs: What is the foreign ancestry of the actor who stopped appearing as Tito in "AFHS"?
As recalled, Laszlo Kovacs's father arrived in Peru as part of a diplomatic mission aimed at implementing improvements in several schools. Within a month of his arrival, he met Carmen Rosa Fernandez, whom he married after a year. Once installed, he founded A. Kovács SAC, a comprehensive air conditioning and design company, as he indicates on Facebook.
In an interview, András Kovács confessed that he would have liked his son, Laszlo Kovacs, to be an engineer or an architect. "Beyond the profession you have, the important thing is that you do it well", he told Publimetro.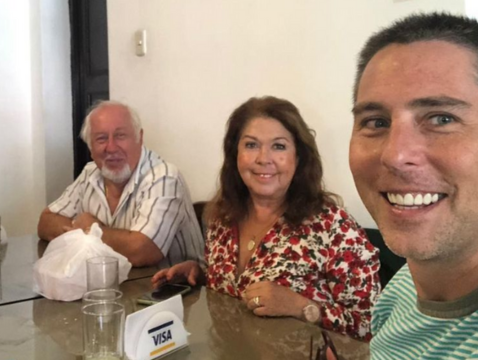 Laszlo Kovacs with his Hungarian father and Peruvian mother. Photo: Laszlo Kovacs/Instagram
YOU CAN SEE: What did Vanessa Silva do before acting in "Luz de Luna"?
How did Laszlo Kovacs and Mili Asalde meet?
laszlo kovacs He took everyone by surprise when he announced, in March 2022, that he was engaged to Mili Asalde. The remembered Gianluca from "Maricucha" maintained, from 2005 to 2009, a media romance with Magdyel Ugaz, 'Teresita' in "AFHS", and his followers did not lose hope that the couple would resume the relationship. Even in 2021, the actress left open the possibility of that happening, when she said on Instagram: "I leave all the doors open. They are already open because I love him. He is my best friend, my confidant. He is very special ".
However, as Laszlo Kovacs recounted, he had already met Mili Asalde in 2009, during a tour of the actors of "Al fondo hay sitio" in Chiclayo, his wife's city of origin.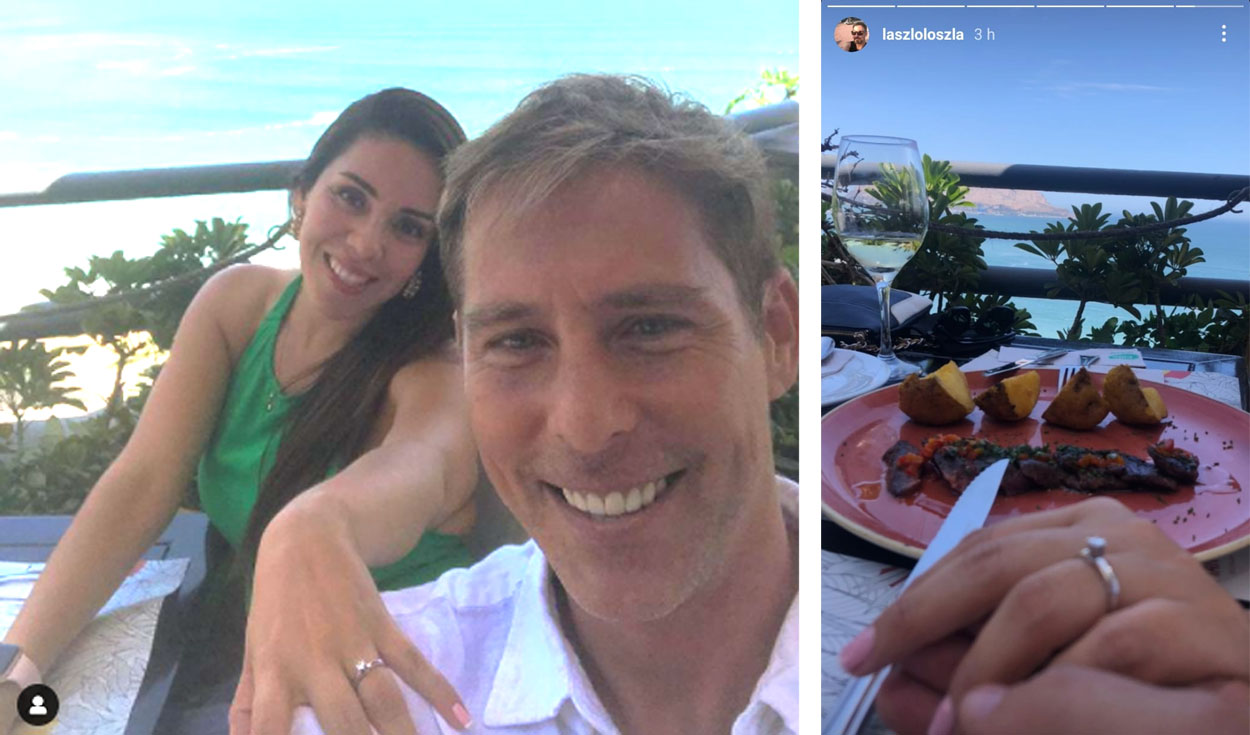 3.15.2022 | Laszlo Kovacs and his girlfriend showing off their engagement ring. Photo: Laszlo Kovacs/Instagram
YOU CAN SEE: Mili Asalde: what does the wife of the popular "Tito" from "AFHS" do and what studies does she have?
For his part, Mili Asalde, who is a businesswoman and has her clothing brand, Padam Padam Padam, said that she felt that Laszlo Kovacs was still very immature. "I didn't have a lot of confidence" He said in the program "En boca de todos". They met again in 2013 and kept in touch until the arrival of the COVID-19 pandemic.
"It was in those video calls that I had with Mili that we deepened our friendship even more, so when we meet again here, in Lima, I think we looked at each other with different eyes", expressed Laszlo Kovacs.
YOU CAN SEE: Pietro Sibille and Yiddá Eslava: what family bond unites the actors of "Yes, my love"?
Laszlo Kovacs seeks to become a father this 2023
After saying "yes, I do" in July 2022, the actor Laszlo Kovacs and his wife Mili Asalde do not hide their desire to become parents, although —according to them—, it is not something that worries them, because they want everything to go well. calm.
"The stork is hanging around, but let's go calmly", declared the popular Tito of "Al fondo hay sitio". "It will be what God wants, it is not something that will make us desperate or make us lose sleep. We are calm, happy and settling in with our marriage. We still have a pending honeymoon, but who knows and on the honeymoon it will happen, "he added for Trome.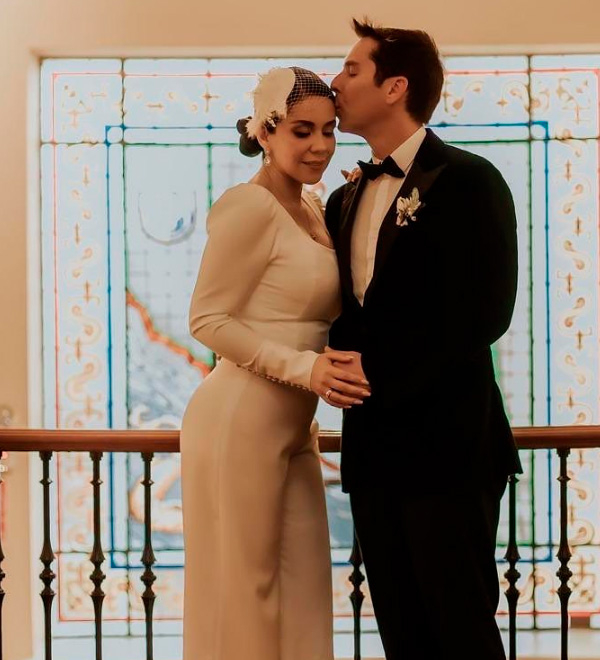 YOU CAN SEE: Karina Jordán and Franco Pennano: what link unites the actress with Cristóbal from "AFHS"?
Laszlo Kovacs' parents stole the show at the actor's wedding
András Kovács and Carmen Fernández They were the center of attention at the party that followed the wedding of Laszlo Kovacs and Mili Asalde, held on July 23 in the Miraflores municipality. "My in-laws giving everything",wrote the wife of the "AFHS" actor on Instagram.
YOU CAN SEE: What career did Alex Béjar, 'Laia' in "Al fondo hay sitio", study before becoming an actress?
There is room in the background: What did Laszlo Kovacs say about 'Tito'?
Months before his wedding to Milia Asalde, and when the new season of "AFHS" had not yet been released, Laszlo Kovacs expressed some reservations about what happened to his character Alberto "Tito" Lara Smith. "I didn't like the end of 'Tito', I would have preferred another. So I have this opportunity to end the character in a different way, not as it happened, so open, but something more forceful for 'Tito'", he pointed out in conversation with La República.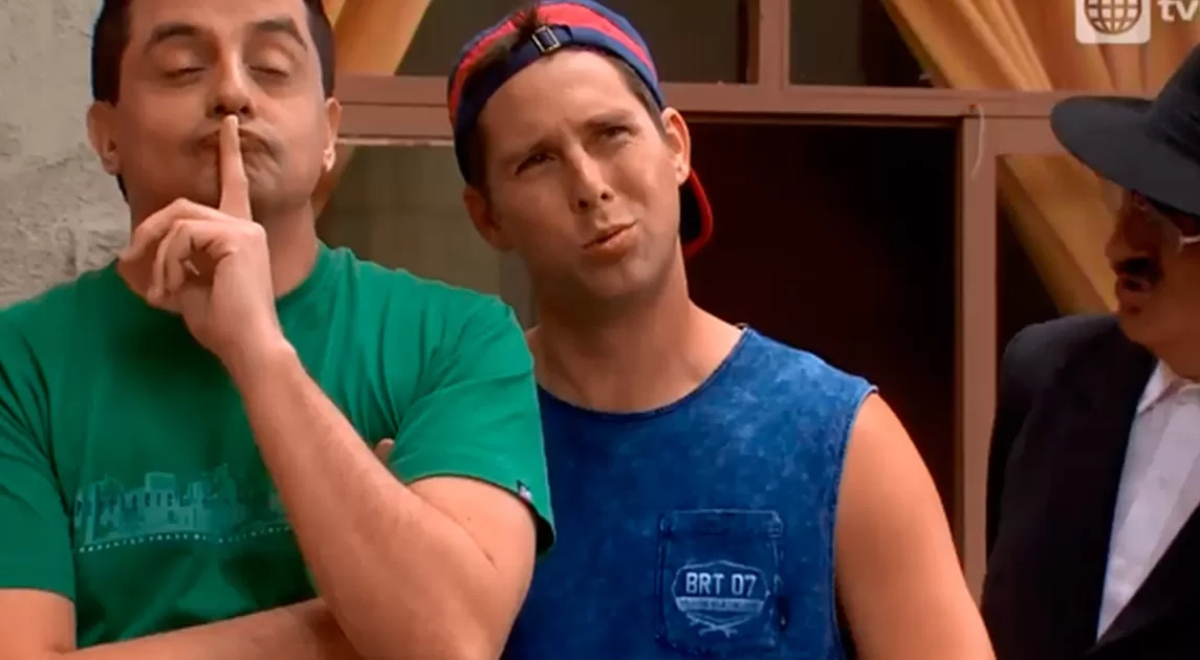 'Pepe' and 'Tito' are one of the most iconic characters in "Al fondo hay sitio". Photo: America TV
YOU CAN SEE: Where was Francisca Aronsson born and why has she lived in several countries?
AFHS: Did Laszlo Kovacs mind that 'Tito' drank alcohol?
In an interview with La República, Laszlo Kovacs noted his concern about the excess of 'chelas' consumed by 'Pepe' and 'Tito'. "I did not feel comfortable setting the example of being a drinking person. Children who want this character should know from a very early age that the subject of alcohol is not a game, it can seem very funny and everything, but the subject must not be taken away from its seriousness because for me it is extremely delicate, "he said.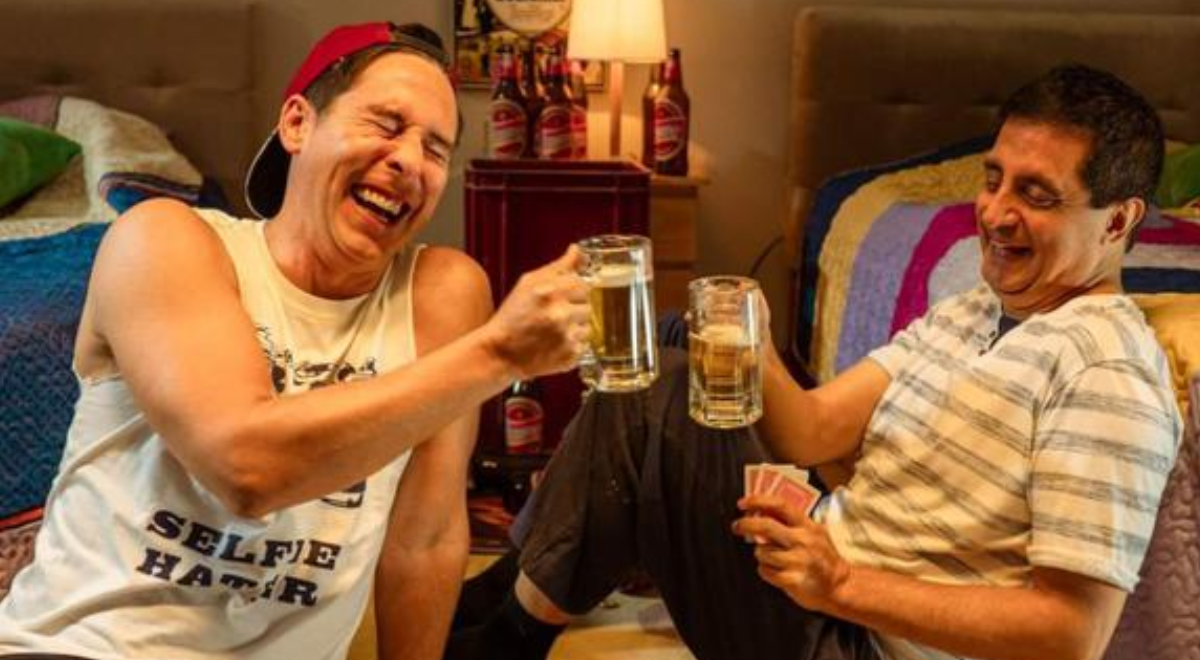 Laszlo Kovacs asks that 'Pepe and Tito' be a couple in Al fondo hay sitio.
YOU CAN SEE: "In the background there is room": what is the age difference in real life between Gaspar and Teresita Collazos?
AFHS: Does Laszlo Kovacs want 'Tito' and 'Pepe' to be a couple?
During the premiere of the tenth season "Al Fondo Hay Sitio", Laszlo Kovacs dropped the possibility that the 'bromance' between the characters 'Tito' and 'Pepe' (David Almandoz) goes further. "Let's hope that they already settle down or if not that with Pepe they will be achieved"he commented to "América Espectáculos".
For her part, Madgyel Ugaz supported the suggestion: "I will be the lady with the rings, I love the proposal, Gigio please."
YOU CAN SEE: Ethel Pozo: where did you study acting to debut as an actress in "Maricucha 2"?
Did Laszlo Kovacs let go of a Netflix series for "Maricucha"?
The actor laszlo kovacs He stated that even though he did a casting for the third part of "Queen of the South" Netflix series starring Kate del Castillo, he is satisfied not to have been summoned and to have the opportunity to play Gianluca Montero Bradbury in "Maricucha", produced by Michelle Alexander.
"Probably, it could open a path to internationalization for me, but it has never caught my attention. I have always wanted to succeed in my country and have a career here (…) I prefer a thousand times that they have called me for "Maricucha". Peru still needs to recognize its artists in the way that they do in other places. I prefer that success be so forceful that it transcends borders and not the other way around, "he said in dialogue with La República.
YOU CAN SEE: Aaron Picasso loses communication with "AFHS" actors: "Perhaps they have been forbidden to talk to me"
Maricucha: What physical changes did Laszlo Kovacs undergo?
While in "Al fondo hay sitio", Laszlo Kovacs had to hide his blue eyes and show off his belly, to play Gianluca in "Maricucha" he turned his appearance upside down, according to what he told La República: "I had to go through several physical processes, I have had to lose weight, dye myself, wax and go to the solarium and receive ultraviolet rays. They are things that one does, I have sacrificed myself because I want to give the best of myself in the character. I have given everything".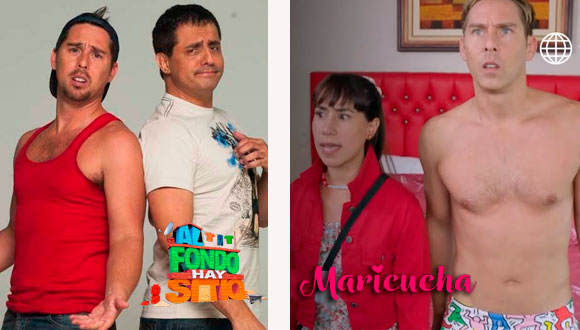 Laszlo Kovacs in "AFHS" and "Maricucha". Photo: America TV