"Most people in India are not yet vaccinated. Only 42 per cent of the population can be vaccinated by December. About 60 per cent must have been vaccinated to prevent the third wave," he told the federal government. Congress Former President Rahul Gandhi Pointed out.
related to this, Congress MP Rahul Gandhi "Most people in India are not yet vaccinated," he said on Twitter. When is the Indian government going to start giving booster vaccine? " He also posted the hashtag 'Vaccinate India'.
In his Twitter post, Rahul Gandhi also linked to the statistics released by NDTV on the amount of vaccine in India and the amount to be paid.
It said, "By the end of December 2021, 42 per cent of the population in India will be vaccinated. Our project goal 3rd wave Preventing from coming. 3rd wave About 60 percent of the population must be vaccinated by December 2021 to prevent it.
To achieve this goal, 6.10 crore doses of vaccine need to be given daily. However, only 58 lakh doses of vaccine have been given daily for the last 7 days. For the last 7 days the deficit amount alone was 5.52 crore dose of vaccine daily. As of December 22, 57 lakh doses had been administered in the last 24 hours. The deficit alone is 5.53 crore doses. "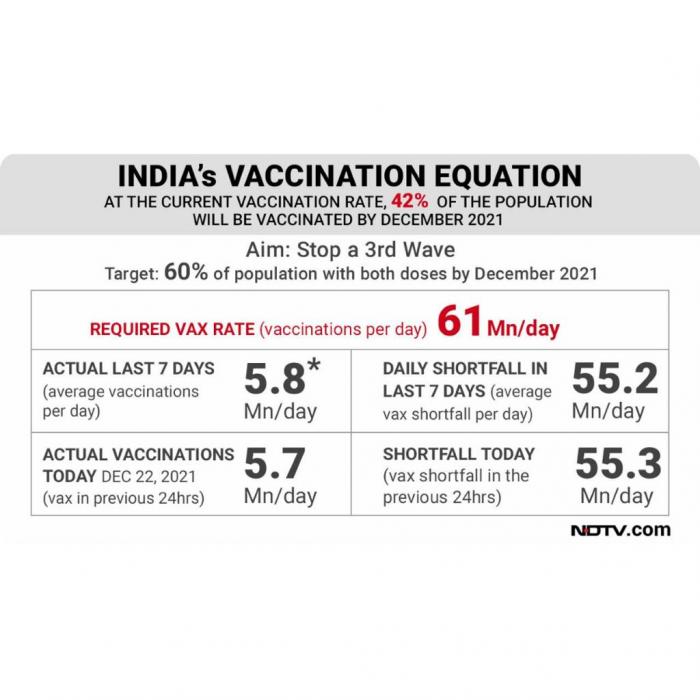 The federal government's vaccination policy Congress The party continues to be criticized. It is noteworthy that there is a constant emphasis that the speed of vaccination should be increased so that people can be protected from the 3rd wave.
.