Ioanis Patsiasor more popularly known as iOA was a trend after performing a tribute concert and with playback to the Spanish singer Rosalía as part of her "Motomami World Tour" in the Parque de la Exposición. The Peruvian influencer published on his YouTube channel, which has around 787,000 subscribers and 359 videos, the show that caused a sensation in the Amphitheater and in which he would have spent more than 100,000 dollars, but without imagining that Sony Music would block his video.Here's why his work was removed and what he said about it in his social networks.
Ioanis followed his passion for being a youtuber and its content went around the world after honoring Rosalía. Photo: iOA
YOU CAN SEE: Youtuber iOA spent more than $100,000 to imitate Rosalía: "I never thought it would be so expensive"
Who is iOA, the influencer who paid homage to Rosalía?
Ioanis Patsias He is a 34-year-old Peruvian economist and content creator who left management positions in his career to follow his dreams as a YouTuber since 2015 and the head organizer of the Rosalía tribute concert in Peru. This idea arose after a visit to the show of the real "Motomami World Tour" in New York, United States. In addition, Patsías is of Greek descent, studied at the Universidad del Pacífico and previously worked in the financial consultant branch, was a member of the digital marketing area at Cyzone, where he met the Mexican youtuber Yuya, and since then it inspired him to continue in the world of entertainment and vlogging.
What did iOA say after learning that YouTube removed its tribute to Rosalía?
With more than 10 years of experience as a content creator, iOA has a community in Youtube which he calls 'mijirritos'. Recently, he performed a show identical to the tour of rosalia in the Parque de la Exposición, a show with which he became even better known until he reached the author of "Bizcochito" herself. This drew attention and received reception during his two dates. For people who couldn't attend, she decided to invest in visuals and recordings to upload the full concert on her channel on this platform.
Consequently, just two days after uploading the show, the video completely disappeared from its video channel and iOA reacted on its Instagram account expressing the following: "Just noticed that Sony Music has blocked the 'Miji Show' video. (name that honored your community), it seems very unfaireither. It became #3 in trends in Peru. It is a video in which we pay tribute to an artist".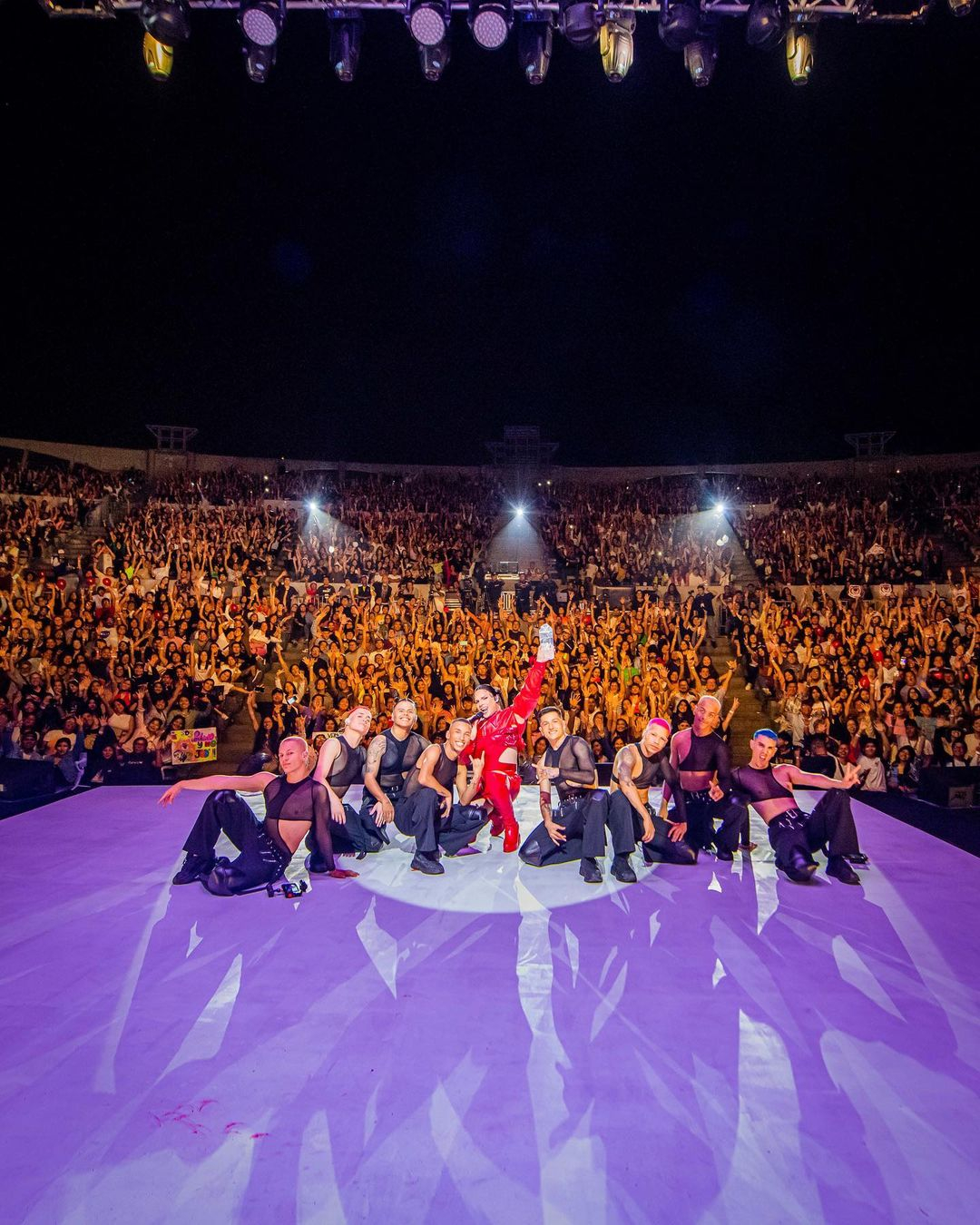 IOA imitating Rosalía at a concert in Lima. Photo: Instagram
On the other hand, he stated that he would not give up, since there were 150 people behind this product. "Honest and hard work, made in Peru by an independent content creator. 100% of the visuals are my own and the music complies with YouTube guidelines. I will go to the last resort to get my video back on my channel"said the influencer.
YouTube: why did you remove the iOA tribute video?
After showing his defenses on his Instagram account, iOA, assured that he will continue to seek advice to be able to appeal the case, since the Sony Music label knew that he was doing this project in tribute to Rosalía, who did not include Peru in his world tour . "I will continue to investigate and appeal this issue with the Sony team, because they knew. They have put me in first strike after seven years that I have been on YouTube. I think it is an abuse of authority because they could calmly contact me to find solutions", indicated dissatisfied iOA. However, so far neither Sony Music nor YouTube have been contacted to indicate the reason for removing his video.