In Finland, according to the latest data, 91 thousand Russians live permanently. This is the third largest ethnic community after the Finns and Swedes proper. but Russian Finns are increasingly complaining about discrimination, which manifests itself, in particular, when looking for work. Why Russophobia is raising its head in Suomi, Izvestia figured out.
Incorrect surnames
The Finnish press cites the story of 35-year-old Ilya Timonen. True, before his surname was Russian – and while it was on his passport, Ilya could not find a decent job in Finland. Now he recommends all compatriots who were unlucky enough to be born with a "foreign" surname to follow his example. "At least if you want to find a job in Finland," he says.
Ilya moved to Finland back in 2006. He initially had a very good education – at home he studied technical sciences, physics, mathematics and pedagogy. However, it turned out to be not so easy for him to find a job in a new country. At first I wanted to be engaged in the installation of electronics, but was refused by all firms of the corresponding profile. "Some companies directly advertise that only Finnish installers work for us," explains Ilya. He also tried to take advantage of the vacancies of a translator from the Russian language and a teacher of mathematics and physics – but again unsuccessfully, despite the fact that he was already a Finnish citizen. Then, he said, "for fun," he decided to see if he could get a job with a fictitious Finnish name. They called him back a week later and offered him a job as a teacher.
Photo: Yle / Petteri Sopanen
It was then that Ilya first thought that he could give up his Russian surname – since it creates such serious obstacles for him on the Finnish labor market. According to him, in the first time after the move, he tried to strengthen his national identity, "but eventually realized that it was pointless." Already under a new surname – Timonen – Ilya submitted documents to a company that was looking for a translator from the Russian language. Before that, he twice submitted documents to the same employer, but he was not even invited for an interview. This time an invitation for an interview was received, Ilya successfully passed the aptitude test and stayed in the company for a trial period. Three years later Timonen is still with the company.
In the course of the polls, about half of the Russians living in the country testify that they have encountered cases of national self-hostility. Many Finns openly dislike "russya" (a derogatory term for Russians) and show it in practice. Prejudice can be manifested, for example, in discrimination when looking for a job, in the unwillingness of Finns to rent out a house or a boat to newcomers to Russians. Often, well-wishers advise Russian applicants to introduce themselves as Ukrainians – the Finnish media portray them as "victims of Russian aggression", so migrants from the "square" should be publicly welcomed. However, Ukrainians now in Finland are mainly represented by guest workers who come for several months to low-skilled seasonal agricultural work.
Russians in the cold
The ethnic Russian Andrei, who lost his job in the foundry, believes that he suffered precisely because of his nationality. "I was dismissed only because I am Russian. Even the Finns who worked with me were outraged … But they left the lazy Finn, who was then removed anyway, "Andrey complains. Of course, there are Russians in Finland who claim that they have never encountered discrimination. However, the fact that the problem does exist is evidenced by the fact that not only ex-Russians are faced with it in Finland.
For example, in October one of the Finnish schools needed a religion teacher who understands Islam. They decided to find one among the students of theology at the University of Helsinki – and they submitted an application there. An employee of the Faculty of Theology took up the search and began to ring up students – but only the owners of Finnish names and surnames. In his defense, he stated that he was specifically looking for a teacher with a Finnish name, because "according to the law, teaching religion cannot be about practicing religion." However, the dean of the faculty Antti Räsänen apologized for the incident and said that "the circumstances of this case will be investigated."
Photo: commons.wikimedia.org
Finnish Ombudsman Christina Stenman admits that people in Finland are often discriminated against when hiring for "wrong" first and last names, but they rarely complain about it. The offended do this not because of an innate sense of submissiveness – as practice shows, it is not easy to prove their case in court, and the costs usually fall on the losing side. Victims of discrimination are simply afraid to take risks. Last year, the Stenman office received a record number of complaints – more than 1.5 thousand. In most cases, it was about harassment on a national or ethnic basis. The complaints were related, in particular, to problems with employment, inequality in the provision of services, with the behavior of security guards in stores, as well as discrimination in the housing market.
Employers tend to deny that they knowingly exclude some job candidates on the basis of their first and last name. However, last year the State Labor Protection Service conducted an anonymous survey of HR specialists – and 39% of them admitted that a foreign name reduces the chances of getting an invitation for an interview. In turn, sociologist Akhlak Ahmad sent 5,000 job applications signed by different names to Finnish firms and enterprises. All fictitious applicants had the same qualifications, educational level and work experience, but some had Finnish, others English, others Russian, fourth Iraqi and fifth Somali surnames.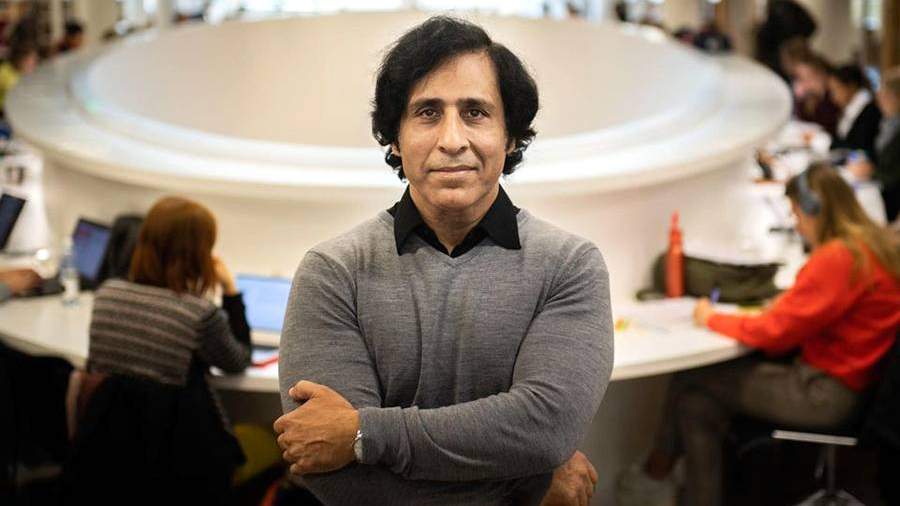 Photo: Yle / Henrietta Hassinen
In response to 1,000 applications, the Finns received 390 interview invitations. Even for the "British" this figure turned out to be significantly lower and amounted to 269. For the "Russians" it was 228, for the "Iraqis" – 134 and for the "Somalis" – 99. Based on these results, Ahmad came to the conclusion that on the market of labor in Finland there is an "ethnic hierarchy". To combat this phenomenon, he recommended that anonymous recruiting be used as widely as possible, when the resume does not indicate the name of the candidate and does not include his photographs. Recently, this method of personnel search has been used more and more in Finland. However, as Ahmad admitted, anonymous recruiting cannot be a one hundred percent panacea – since a xenophobic manager can calculate a "foreigner" based on data on his work experience in other countries and foreign education. Therefore, according to Ahmad, anonymity is, in fact, the first step in solving a problem that can be completely eliminated only by eliminating discriminatory attitudes.
"Often I couldn't get any answer at all"
Recently, the Finns have a worsening attitude towards Russia. This was recorded by a survey conducted by the Finnish Business Analytical Center (EVA). In March and April, more than 2 thousand people aged 18 to 79 were interviewed. According to the received data, slightly more than a third of Finnish residents (34%) have a positive attitude towards Russia, and 45% – negatively. In 2012, 63% of Finns viewed Russia positively and 19% negatively. In other words, in nine years, positive attitudes have declined by about 30 percentage points, while negative attitudes have increased by 26. This is a natural result of the fact that many Finnish politicians have long been talking about "an aggressive and unpredictable eastern neighbor", and representatives of the Finnish special services echo them.
The problem of Finnish Russophobia has long been fixed in the Russian Foreign Ministry. Back in November 2016, the official representative of the ministry, Maria Zakharova, spoke on the topic of a report that was fresh at that time, prepared by the Finnish security police. This document contained the assertion that Russians who purchase real estate in Finland can then use it to house the Russian military. "I don't know at all how one can live in such a feeling of constant fear. It seems to me so close to paranoia. Those who engage in this Russophobia are not very well aware of the fact that, endlessly intimidating their own population, they will then have problems: at some stage, phobias can turn into mania, "Zakharova said in this regard.
Photo: RIA Novosti / Alexander Halperin
In the fall of 2019, the news service of the Finnish state television and radio company Yle undertook a survey of Russian-speakers living in the country. Almost half of those surveyed said they faced discrimination in the labor market in Finland. At the same time, as the journalists stated then, only a few statements about discrimination on the basis of nationality or language reach the supervisory authorities. "Although I have a very good education and a solid resume, I often couldn't get any answer at all, let alone an invitation for an interview. Last time, after hundreds of attempts, I was invited for an interview only to one office … That's where I actually work, "said Mikhail Ionin from Turku. "For five hundred resumes sent out, there are only five interviews in Helsinki. And this is in the presence of Finnish education and four languages ​​- Finnish, English, Swedish and Russian. As a result, they were invited to work only on recommendation, "shared another survey participant.
Many Russian-speakers in the course of the survey admitted that they want to change their names and surnames to Finnish – hoping that this will make life easier for them in the future. "I have lived in Finland for 10 years with a Russian surname and for 13 years now I have been living with a Finnish one. I can say that with a Finnish name I really began to get more response in my job search. They began to invite people for interviews more often, "says the woman who is now listed in her passport as Eiva Airaksinen.
Photo: RIA Novosti / Alexey Danichev
The discriminatory attitude towards "russya" sometimes gives the most unexpected results – for example, it manifests itself in the reluctance of Russians who have received Finnish citizenship to go to the polls. Thus, only one-fifth of the country's Russian-speaking residents who have the right to vote in municipal elections get to the polling stations – only local Estonians are less active. As a political scientist from the University of Tampere Josefina Sipinen says, this is largely due to the attitude with which politically active "foreigners" are associated. Sipinen explains: "For Finns, a Russian-speaking person who is active in politics can be like a red rag. They ask themselves the question: can a Russian-speaking person have any opinion about Finnish politics at all? For our research, we interviewed one candidate for municipal deputies. He said that as soon as he had a different position, they immediately began to call him "russya". Because of discrimination, even those Russian-speakers who understand that they have political rights do not want to use them. "