Last Updated : 10 Jan, 2023 10:01 AM
Published : 10 Jan 2023 10:01 AM
Last Updated : 10 Jan 2023 10:01 AM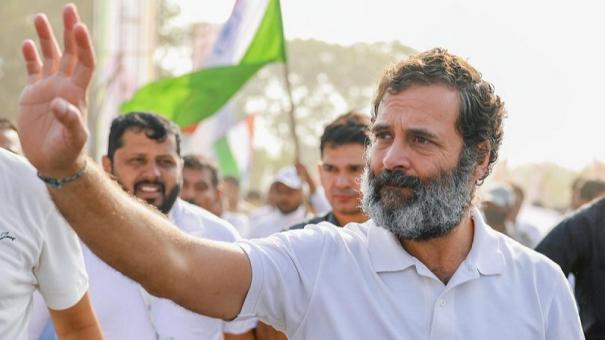 Chandigarh: Rahul Gandhi wearing only a t-shirt in the shivering cold during his India Unity Yatra has drawn criticism. In this case, Rahul Gandhi gave an explanation to the media regarding his pilgrimage.
He said: Criticisms arise as to why I wear only a t-shirt even in the shivering cold. I will explain it myself. The weather was hot when I started the pilgrimage. But when I crossed several states and reached Madhya Pradesh, the cold peaked.
A few days ago I saw 3 poor girls in Madhya Pradesh. They were shivering in the cold as I held them close to me. That day I made a decision. I decided to wear only a t-shirt until I could not bear the shivering cold. I want to say something to the girls who were shivering in the cold that day. When you shiver in the cold, I shiver in the cold. The message is that the day you wear a sweater, I will also wear a sweater.
This is what I am declaring from this t-shirt.
Borrowing a little pain from you. pic.twitter.com/soVmiyvjqA

— Rahul Gandhi (@RahulGandhi) January 9, 2023
The media criticizes me for wearing a t-shirt. But I do not write about peasants and laborers who walk with me in tattered clothes. Me wearing a t-shirt is neither an issue nor a point of discussion. The real talking point is why farmers, poor workers and children are still in tattered clothes, just t-shirts and not even sweaters. Thus he spoke.
Kanyakumari to Kashmir: Rahul Gandhi's India Unity Yatra, which started on September 7 in Tamil Nadu's Kanyakumari, has now crossed 115 days. This trip has been completed in the states of Tamil Nadu, Kerala, Andhra Pradesh, Karnataka, Telangana, Madhya Pradesh, Rajasthan and Maharashtra. It is noteworthy that the Indian Unity Yatra, which is currently underway in Haryana, will end in Jammu and Kashmir.
Don't miss out!