Somehow a new player coming into the top order shines and scores record-breaking centuries and remains unbeaten gives hope for the future of Indian cricket. Jaiswal promises to be a player who will serve the Indian team for a long time. On the other hand, the so-called old horses who use this series to recover their lost reputation and recover their lost averages can say that it is bad publicity for the Test match.
Virat Kohli took 80 balls to hit his first boundary yesterday. A player like him, hyped by many as a genius, even more pistachio than Sachin, to score 36 off 96 balls with a boundary destroys the credentials of his batting prowess. Rohit Sharma also scored 103 runs off 221 balls. Audi scored 232 runs for the loss of 2 wickets in the ODI yesterday. Subman Gill did not hesitate in this either.
Many records have been broken. Jaiswal became the 17th Indian player to score a century on Test debut. His first wicket partnership of 229 runs with Rohit Sharma is the highest opening runs outside Asia. Prior to this, Gavaskar and Souhan's opening score of 213 at The Oval was the highest by an Indian opening pair outside Asia.
The Dominica pitch is a clay pitch which has nothing to fast bowl and the spin balls return slowly. In this, May Isles off-spinner Rakim Cornwall turned the balls well and Rohit Sharma once became an LP. But the replay showed that the ball had bounced too far and it was unbelievable. We have seen umpires reluctant to give out when Kohli was captain. Now Rohit Sharma looks like 'turn'.
On the one hand, all the Test matches of the Ashes series so far have been at the height of excitement. If you come here and sit down looking at the brilliant bowling, field strategy, tactics and batting skills that surpass it, it is nothing. It is a very tough test match. Can't blame the May Islands. Some rightly say that the ICC and the IPL are to blame for this state of affairs in the MEIs.
It is no coincidence that India have been given Test and T20I series against Sri Lanka, Bangladesh and May Islands exactly after suffering big defeats each time. Why play with Afghanistan? Cricket is also not benefiting from such matches with the May Islands. Indian players are only used to load the average. They will play here and then play against strong teams. This is a familiar story.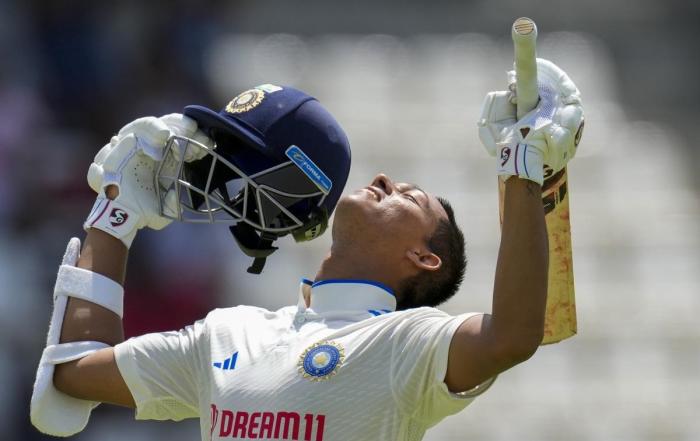 Jaiswal is different! Sometimes it is only debutants like Jaiswal who carry the cricket. Some players carry the weight of the game with their skills. Now one of those is Pat Cummins, he's a miracle. As well as Ben Stokes. No one else can be claimed from the Indian side. But now there is faith in Jaiswal. Let's pray that Karun Nair, Manish Pandey and countless other players don't end up where their careers started.
The highlight of Jaiswal's game is that his playing is very natural. He also knows how to play defense and how to score runs. The patience, batting strategy, attention and wisdom to stay in the crease for a long time and score big hundreds is amazing.
Shots went to the fielders, no sweep shots, no reverse sweeps, and once the ball hit the helmet during the sweep. But Jaiswal didn't show any trouble even on his face. He plays after keeping a close eye on the ball. He does not put his leg in front and let the bat hang over the ball. In the end he faced the most number of balls faced by any debut centurion in India.
Jaiswal has the ability to play any way he wants. He has the ability to open as an opener in all three formats. Having said that, how a captain uses a player to develop him into the next generation is important. Hats off to Jaiswal for now.
But while Test matches like these are a great experience and a confidence booster for the likes of Jaiswal, the performance of the Indian senior players is worrying. Be warned that playing such dull games for self-interest and batting averages can create a negative attitude among the young players playing against them.