Just a week after the Taliban overran the capital, Kabul, in mid-August 2021, seizing the presidential palace and government ministries, the militant movement began appealing to Afghanistan's embassies abroad to represent it.
Afghan diplomats revealed that some of the messages, sent from the email and WhatsApp, were uncharacteristically polite and surreal for a militant movement known for carrying out suicide attacks against mosques and hospitals and carrying out mass executions in football stadiums during its last term in power.
The Afghan consulates in the United States received simple introductory messages, while other consulates received more urgent messages, for example, one of the embassies in Europe began receiving emails from a postal address bearing the Taliban mark asking diplomats to send their names and plans of work, according to a report by Foreign magazine. Police".
group calls
In parallel, several WhatsApp messages and e-mails addressed to the diplomats demanded online conference calls with the Taliban's acting foreign minister, Amir Khan Muttaki.
Several exiled diplomats read this as an indication that the movement was planning to take over consulates abroad.
Afghan embassy in Islamabad (AFP)
"Foreign Policy" revealed that it had spoken with 12 ambassadors and diplomats who are still working in Afghanistan's embassies abroad, and according to the data it obtained, no embassy has so far acquiesced to the new movement's government.
No to dialogue
Likewise, the majority of diplomats preferred not to respond to the movement's messages, and some attributed the position of rejecting dialogue to the fact that the movement and its policy contradict Afghanistan, which they swore to serve.
The majority of Afghan embassies abroad are still operating after the fall of Kabul to the Taliban, and none of them have so far succumbed to the movement's authority, but these embassies are facing a lack of financial resources.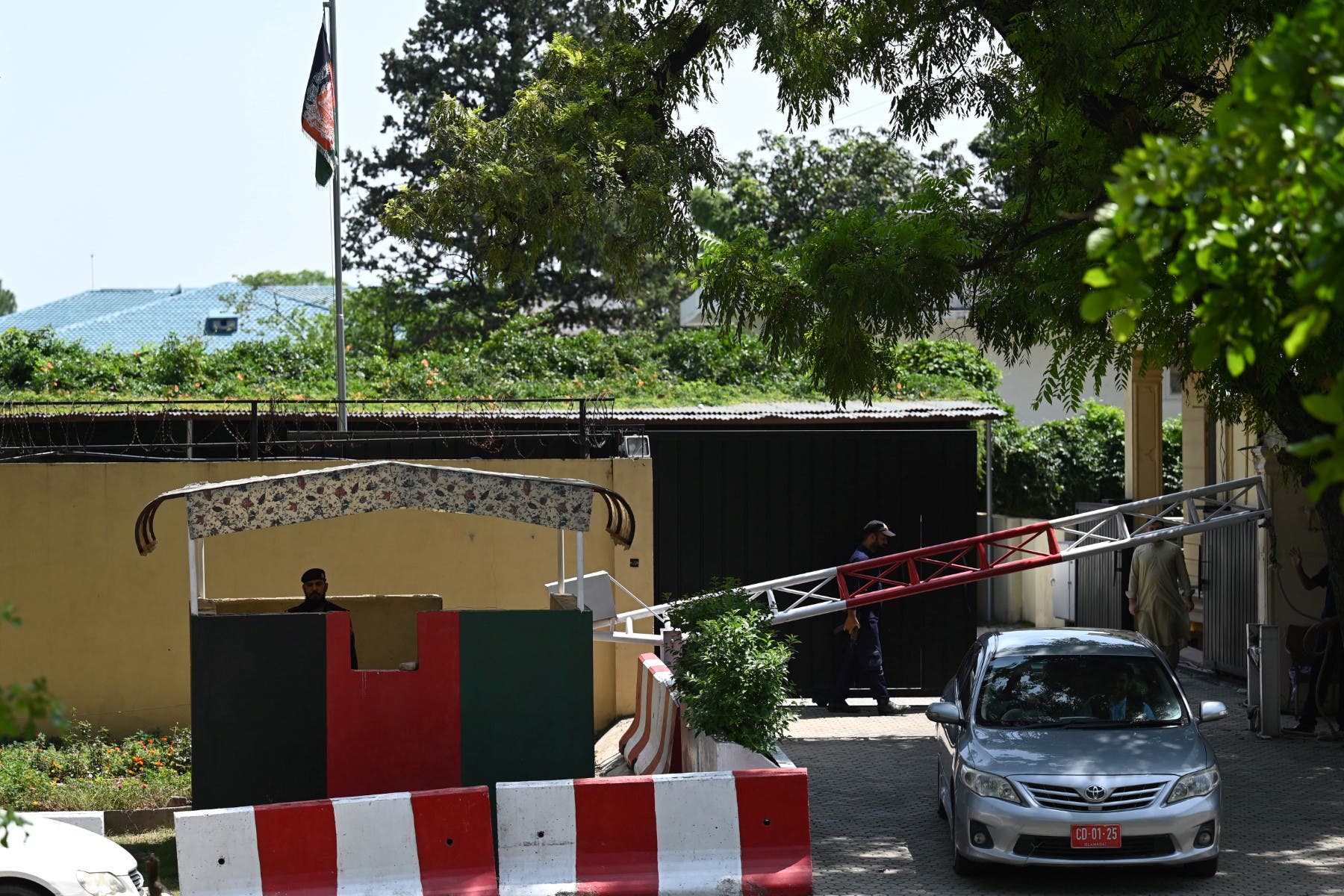 Afghan embassy in Islamabad (AFP)
Afghan embassies are currently focusing their efforts on helping Afghan refugees abroad, despite the accumulation of financial resource problems, as diplomats are no longer receiving their salaries.
Most embassies are open
For his part, Safiullah Wehdat, former head of human resources at the Afghan Foreign Ministry, said that around 45 Afghan embassies and 20 Afghan consulates are still open around the world but the gap is widening further with the departures of high-ranking diplomats.
It is noteworthy that Afghanistan's ambassador to the United Nations, Gholam Izakzai, resigned and told his colleagues that he no longer had a country to represent him before the international organization, according to "Foreign Policy" magazine in December 2021.