In light of the continuation of the military operation launched by Russia in Ukraine, which entered its 66th day on Saturday, Ukrainian President Volodymyr Zelensky accused the Russian army of committing several crimes, saying that the Ukrainian people adhere to its accountability.
However, he stressed at the same time that continuing negotiations with Moscow is very important, saying: "If there is only one chance to end the crisis, it must be negotiated."
"I don't trust the promises of the Russians"
He also added during a press conference with a Polish media outlet, yesterday, Friday evening, that he does not trust what Russia offers or its promises regarding the exchange of prisoners and others, but he stressed that the risks of ending the negotiations are very high.
"The Russian promises will only be fulfilled through direct negotiations and agreements," he said.
An armored convoy of pro-Russian forces moves along a road in Mariupol (Reuters)
"Killing the Russian Army"
As for Kyiv accusing the Russian forces of committing many crimes and violations, he indicated that the Ukrainians felt after what happened in Bucha and Mariupol. They want to kill the Russian army," he said.
"When you are put in such a situation, the issue of negotiation becomes difficult," he added, referring to negotiations with the Russians, despite accusing them of committing crimes in a number of Ukrainian cities, especially Bucha (the vicinity of Kyiv) and Mariupol (southeast of the country).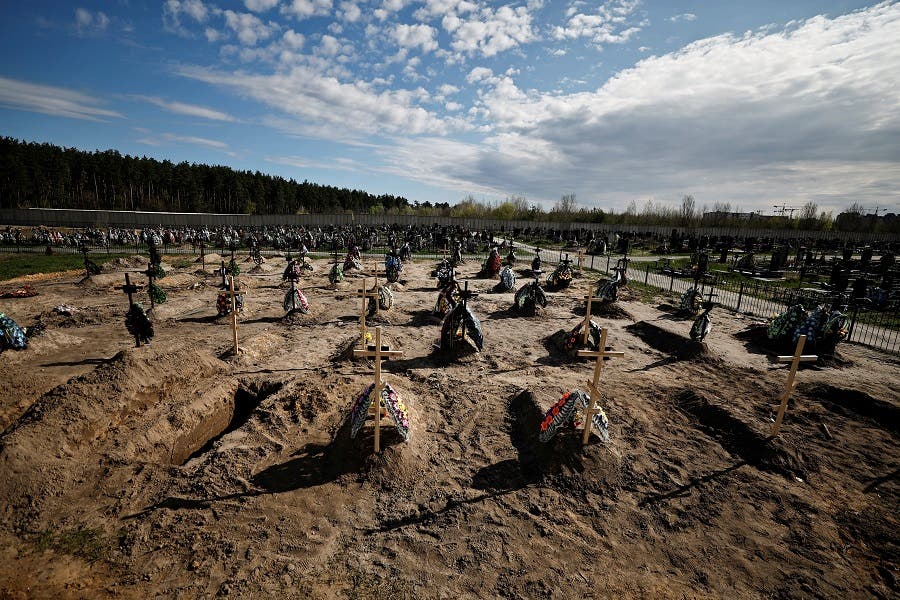 Mass graves in Bucha, Ukraine – Reuters
He also added, "My heart, soul and mind are with my community and my people, but at the same time, if there is one chance for a solution, we must talk" with Russia.
Rounds without results
It is noteworthy that several rounds of talks were held between the Russian and Ukrainian sides, a few days after the launch of the Russian military operation on Ukrainian soil on February 24.
However, those consultations, which took place directly in our neighborhood, and sometimes via the Internet, have been hampered since last March, after the withdrawal of Russian forces from the city of Bucha, and the rise in Ukrainian accusations of Russian forces committing massacres, while the two sides confirmed that they continued, albeit slowly via the Internet.
However, it has not yet led to any results, especially since the two sides adhere to their demands.
While Moscow adheres to the impartiality of the western neighbor, halting its efforts to join NATO, as well as disarming it of weapons that threaten its security, Kyiv demands multiple international guarantees in order to stop any future Russian attack on its territory.
It also refuses to relinquish its sovereignty over the eastern regions of the country, or to recognize Russia's annexation of Crimea.