As the battles raged in the east between his country's forces and the Russian forces, Ukrainian President Volodymyr Zelensky confirmed that Kyiv would be victorious.
"Ukraine will surely win this war that Russia started," he said in a video speech at the Asian Security Meeting held in Singapore on Saturday.
starvation and food shortage
He also repeated the warning that the world would face starvation and food shortages if the Russian forces did not lift the blockade of the ports, as he put it.
He said: "The world will face acute and severe food crisis and famine," according to what Reuters reported.
Over the past few days, the Ukrainian president has been warning of a major crisis due to the paralysis of the ports on the Black Sea. Two days ago, he also repeated those warnings, saying, "Millions may starve to death because of the Russian blockade."
control of the Black Sea
It is noteworthy that the Russian fleet's control over the Black Sea, and the blockade of the port of Odessa (southern Ukraine) in particular, caused the cessation of the export of grain, especially wheat, of which Ukraine was the third global exporter before the outbreak of the conflict between the two countries.
Last Wednesday (June 8, 2022) United Nations Secretary-General Antonio Guterres warned during his presentation of the second United Nations report on the repercussions of the conflict between the two countries that "the impact of the war on food security, energy and finance is comprehensive, dangerous and accelerating."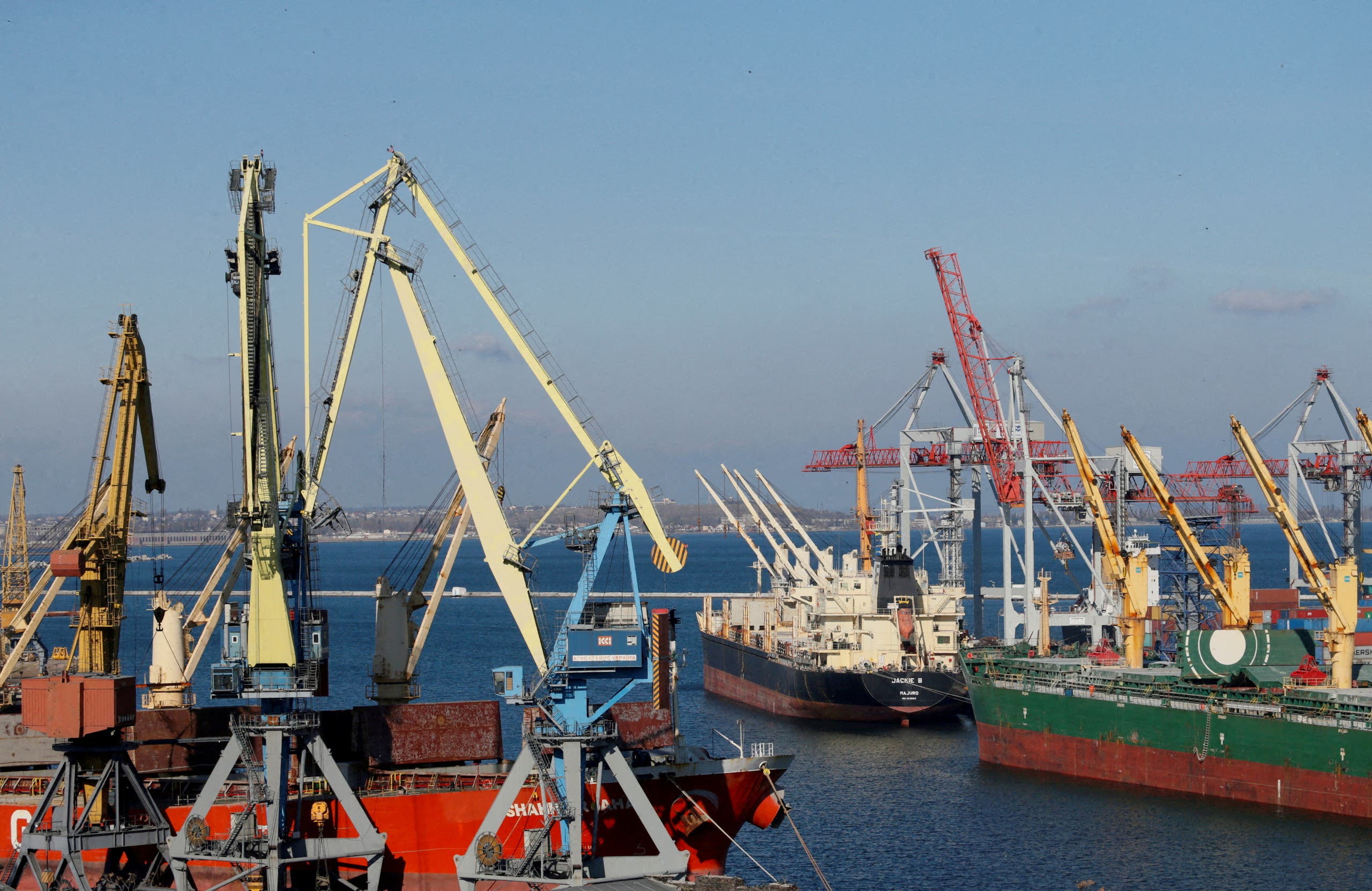 Ukrainian port of Odessa (Reuters)
Moscow blames the West
However, Russia, in turn, accused the Westerners of being responsible for the lack of supplies around the world as a result of the sanctions.
While Kyiv rejected these allegations, stressing that the Western sanctions imposed on it do not include wheat and grain, stressing that they were necessary to curb the Kremlin.
Since the start of its military operation on the lands of its western neighbor on February 24, the Russian forces have imposed their naval control over the Azov and the Black Sea, besieging the ports in southern Ukraine, which usually exported grain, especially wheat and sunflower oil, which led to a rise in prices worldwide, amidst Fears that several countries will be affected, especially in the Middle East and Africa.